After two and a half years  of living and starting a business in Bodrum, I want to share with you why Bodrum is the perfect place to develop your dream into a business idea, turn that idea into a startup and why you may want to become part of our company, PranaGEO.
Back in July 2015, I combined a dream with an idea from my current business partner, Ahmet, and developed it into a concrete business plan, secured funding, hired a team of developers and started to develop our company PranaGEO as an intelligent Data Science Platform for entrepreneurs like myself and existing business owners.
Today, we have two International customers and we are getting ready to launch our first commercial product early 2018. Our R&D team consists of three highly skilled developers who have already made the transition and moved to Bodrum from Istanbul and Izmir.
We are continuing to develop our company and introduce innovative products with new functionality and we are looking for more talented developers to come and join our winning team.
Our next step is to turn Bodrum into the Turkish Silicon Valley and attract more entrepreneurs, investors and developers from all over the world for making a difference in developing dreams into reality. We are working with key influencers to plan an event in March/April 2018, Start-in Bodrum, more to come on this later.
Why do you want to work in Bodrum:
In and around Bodrum there are excellent places to dream and also to translate dreams into real business plans.
Warm sunny weather all year around, especially during winter months at a level that you can enjoy being outdoors with a lot of sun and temperatures above 10-15 degrees.
Great mixture of  low-rise whitewashed houses, magical charm from its turquoise crystal clear waters, olive, orange, mandarin trees, mountains, the fascinating ruins of the ancient city of Halikarnassus makes the city spectacular.
Many of the people who live here have an entrepreneurial mind and help each other to become visionary entrepreneurs.
Great nature mix between land, mountains and sea, so you can enjoy in winter and summer.
People always have a big smile on their face  when you talk about Bodrum and they want to live in Bodrum and develop their career in Bodrum, especially when it is in a different industry than Tourism and Boating.
Bodrum has a well-off population and it attracts many experienced investors.
As a Software Research & Development House, PranaGEO is a pioneer in Bodrum (we are probably the only one for now)  and that of course raises eyebrows, but it also gives people encouragement and belief that is possible then I could  join them because I can make a change.
My first impression of Bodrum, everytime I enter the town of Bodrum and I see the sign below  is that I feel happy that I made the right choice to live and work here with like-minded people.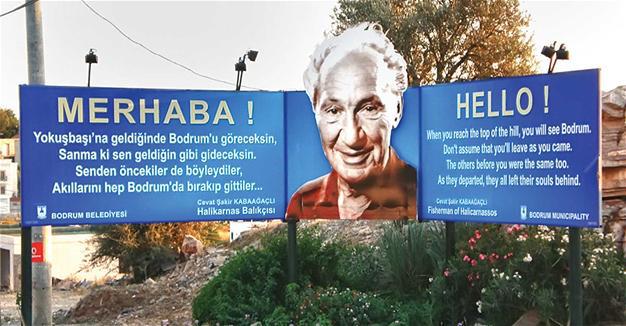 Cevat Sakir Kabaagaçli a famous Turkish poetical novel writer who was called "Fisherman of Halicarnassus" and lived in Bodrum in the previous century has said. "When you reach the top of the hill, you will see Bodrum. Don't assume that you'll leave as you came. The others before you were the same, too. As they departed, they all left their souls behind." This poem I read when I leave and enter Bodrum and every-time when I go abroad, I leave with more entrepreneurial spirit and ideas and come back with new ideas to work on.
I can continue to list many more reasons why Bodrum? However I would prefer to have a conversation with you instead. So please go ahead and contact me now.  The PranaGEO team  will convince you to live and work in Bodrum for a startup who wants to make change while enjoying Bodrum life that minimizes stress and maximizes productivity and creativity.
Gert Kroon
Co-Founder of PranaGEO
connect@startinbodrum.com